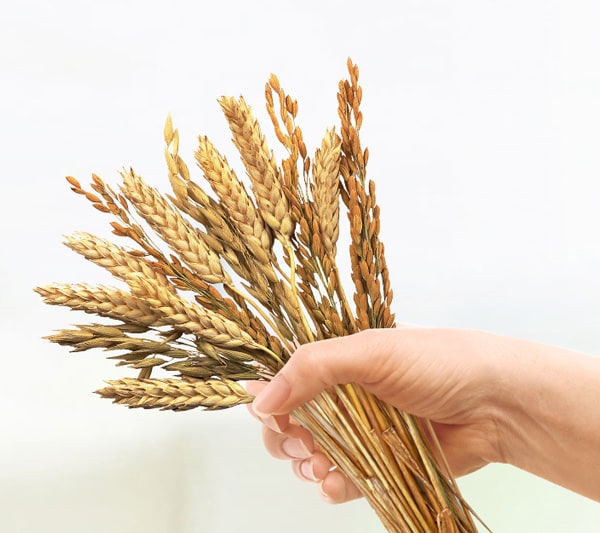 Cereals are one of mankind's oldest foods and are one of our principal sources of sustenance. The variety of cereals on offer and their wholesomeness make them an almost indispensable part of any diet.
Wheat
Wheat is the cereal that gives us white flour and is what we make bread, pizza, cakes and biscuits from. Its grain is made up of three parts. The external part, the famous bran, which we find in our whole-wheat bread, is rich in fibre and protein. The centre is, nutritionally speaking, the most substantial and important part thanks to its high carbohydrate content. Finally, wheat germ, which is the part that gives rise to a new plant, is made up of protein, carbohydrates and lipids

.
Rice
Rice is an essential cereal for mankind and is the main source of sustenance for billions of people worldwide. It is the cereal with the highest carbohydrate levels, but contains little in the way of proteins, fats and fibre and no gluten at all. Its peculiar make up and properties means that it is an easily digested food. It is no surprise then that is commonly used to feed very young children

.
Barley
Barley has been grown by populations living in cold and semi-arid areas of the world, where wheat will not grow, for thousands of years. It is rich in carbohydrates, low in fat, and is a good source of protein as well as containing group B vitamins and precious mineral salts

.
Spelt
Spelt is the oldest grain to be grown by man and was used as source of nourishment as far back as the Neolithic age. There are three varieties of spelt: large, medium and small grain varieties, but they all have one thing in common, their
Buckwheat
Buckwheat is considered a cereal only because it is grown and used as one, but it actually belongs to a completely different family, that of Polygonaceae. It further sets itself apart from other cereals as its proteins are of higher quality. It is a good source of fibre and minerals and is also gluten free. In China, where it originates, it is used to make bread and in Eastern Europe it goes with main courses and is used to make porridge

.
Kinder selection and quality control
Cereals are key ingredients in many of our recipes, so it is very important to us that their selection, treatment and supply are done properly. We choose the type of wheat flour according to the result we want to see. Those most suitable to being raised naturally are used for Kinder Brioss, Kinder Colazione Più, Kinder Pinguì and Kinder Pan e Cioc and for the soft sponges in Kinder Paradiso, Kinder Milk Slice and Kinder Delice. Some, other are ideal for the crispiness we look for in the wafers found in many of our products.