KINDER JOY OF MOVING SUPPORTS SAVE THE CHILDREN'S MISSION TO CURB SUMMER LEARNING LOSS FOR UNDERSERVED KIDS
More than 3,000 at-risk children served by Save the Children to participate in Kinder Joy of Moving program activities at home During Summer 2020
Kinder Joy of Moving program has been added to Save the Children's 2020 SummerBoostCamp™, which helps curb summer learning loss for children. Kinder Joy of Moving, based on a scientific method1 which aims to help children and their families be active, enjoy moving, and develop life skills in an engaging and joyful way, has been integrated into 16 Save the Children SummerBoostCamps in California and Tennessee. Participating children will receive virtual instruction and activity kits that promote at-home learning in STEM, reading, math and physical activity, while using activity cards that encourage family bonding through play and cognitive learning. The Kinder Joy of Moving kits also include equipment needed for children to stay active at home with their families.
Save the Children's signatureSummerBoostCamp is a national award-winning program, as recognized by the National Summer Learning Association. Most children lose some progress over a typical summer, but low-income children are most impacted. By fifth grade, summer learning loss can leave low-income students up to three years behind their more affluent peers.
Kinder conducted a pilot program with Save the Children in three camps in rural California last summer.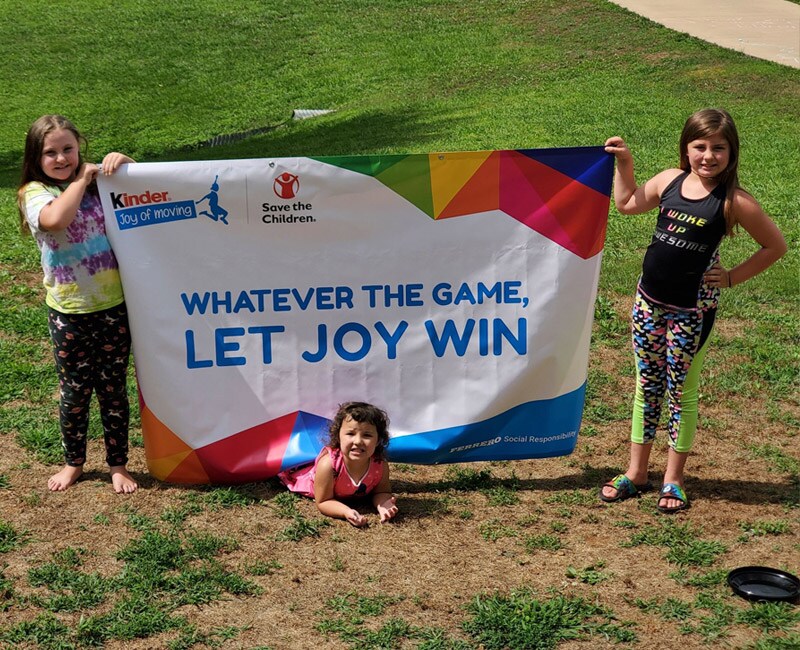 Photos from the SummerBoost Program
Kinder deliveries Joy in Chicago, to over 2,200 students, with school supplies and activity kits.
On August 22 and 23, Ferrero North America's Giorgio Pasquale, Senior Vice President, Industrial, together with Illinois State Senator Celina Villanueva and Save the Children, hand delivered backpacks of school supplies to over 2,200 students at three locations in Chicago. In addition to school supplies, they distributed Kinder Joy of Moving activity kits with equipment and games cards to help children stay active at home with their families. Kinder Joy of Moving is a global Kinder and Ferrero Group initiative that inspires more than four million children and their families in 34 countries around the world to get active, enjoy moving, and develop life skills in an engaging and joyful way. #KinderJoyofmoving #letjoywin #SocialResponsibility #SaveTheChildren
Photos from the event show the backpack distribution walk-up and drive-up as well as children staying active.