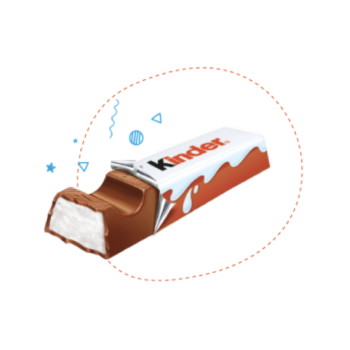 SIMPLIFYING THE KINDER CHOCOLATE WRAPPER
A key focus of our packaging projects is to reduce the consumption of resources and enable recycling of our products, this helps to alleviate pressure on current recycling infrastructures. For example, we are in the process of removing a packaging component from our Kinder Chocolate wrappers in Central and South America, while still delivering the required quality and protection standards.
SIMPLYFING THE KINDER CHOCOLATE WRAPPER
Kinder Chocolate used to be packaged with an inner and outer wrapper made of two separate materials. The combination of the two films has allowed us to maximise product quality, packaging aesthetics and line efficiency. We have achieved the same results with a specially developed mono-material wrapper for Kinder Chocolate which, when rolled out, will deliver a reduction of about 26 tonnes of packaging material per year.
WHAT IS OUR PACKAGING MADE OF?
FIND OUT WHAT KINDER IS DOING TO MAKE ITS PACKAGING MORE SUSTAINABLE