Kinder Happy Hippo
Kinder Happy Hippo is a crispy hippo shaped biscuit with a double cream filling. It is available in two different, yummy flavours - cocoa and hazelnut.
Crispy Wafer Biscuit With a Milky And Cocoa Filling

SUGAR, VEGETABLE FATS (PALM, SHEA), WHEAT FLOUR, MILK POWDER (7.5%), FAT-REDUCED COCOA POWDER (5%), SKIMMED MILK POWDER (4.5%), HAZELNUTS, WHEY POWDER (MILK), CHOCOLATE (SUGAR, COCOA MASS, COCOA BUTTER, EMULSIFIER: LECITHINS (SOYA), VANILLIN), WHEAT STARCH, EMULSIFIER: LECITHINS (SOYA), SUNFLOWER OIL, WHEY PROTEINS (MILK), RAISING AGENTS (AMMONIUM CARBONATE, SODIUM BICARBONATE), SALT, VANILLIN.

TOTAL MILK SOLIDS: 12%.

| Typical values | Per 100g | Per biscuit (20.7g) | %RI* per biscuit |
| --- | --- | --- | --- |
| Energy (kJ / kcal) | 2471 / 593 | 513 / 123 | 6% |
| Fat (g) | 38.6 | 8.0 | 11% |
| of which Saturates (g) | 17.6 | 3.6 | 18% |
| Carbohydrates (g) | 53.6 | 11.1 | 4% |
| of which Sugars (g) | 45.1 | 9.3 | 10% |
| Protein (g) | 6.7 | 1.4 | 3% |
| Salt (g) | 0.264 | 0.055 | 1% |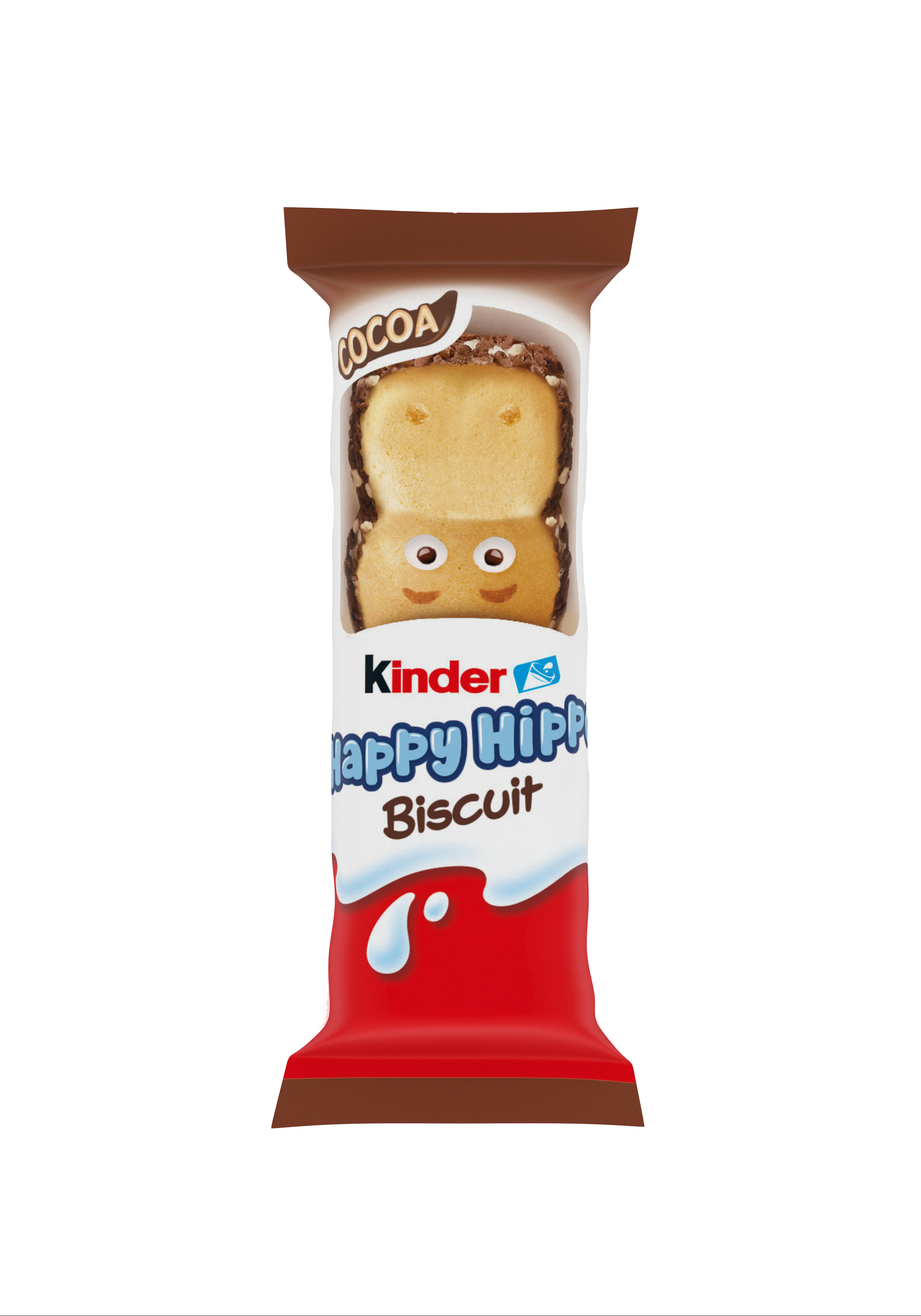 Kinder Happy Hippo Cocoa Cream Single 20.7g
Kinder Happy Hippo Cocoa Cream 5 Pack 103g