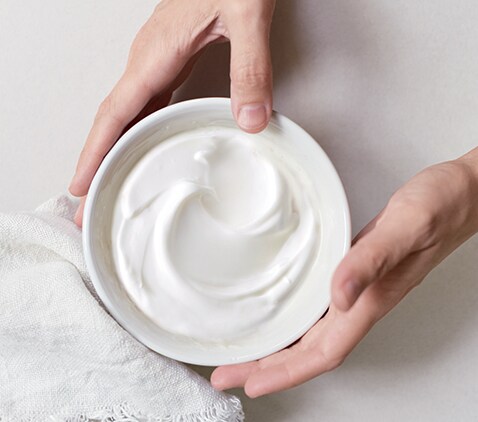 Yoghurt is a food with a delicious creamy consistency and sour taste derived from milk through a fermentation process activated by selected lactic bacteria ferments.
The origins of this food, now so widespread in our kitchens, are ancient and uncertain. We assume that its discovery occurred by chance: since prehistoric times, man had observed that milk stored in skins was naturally transformed into yoghurt, thanks to the action of lactic ferments contained in milk in combination with high temperature.

Yoghurt is generally obtained from cow's milk (whole, semi-skimmed, skimmed), but also goat, sheep or buffalo milks can be used to produce it.

The fermentation process is operated by selected lactic bacteria (Streptococcus thermophilus and Lactobacillus delbrueckii subsp. bulgaricus) and consists in converting a part of sugar contained in milk (lactose) into lactic acid. This reaction promotes the creation of an acid environment, in which coagulate proteins, make creamy yoghurt.

Greek yoghurt and poured yoghurt specifically is obtained through ultrafiltration and centrifugation. Filtration removes a part of the whey from the mass of yoghurt obtained through fermentation and turns it into more concentrated yoghurt.
Kinder quality and selection
For the preparation of soft sponge of Kinder Plumcake, we use Greek style yoghurt from whole cow's milk, purchased only from European suppliers.